Italian Vegetable Tanning Leather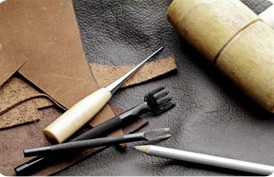 Vegetable tanning leather produced in Tuscany is a luxury leather that has inherited a tradition dating back to 1200 BC .
It is characterized by luster and texture that increase over time, thus making it look familiar, something unique that belongs to you.
Tanning?
Tanning is the process involved in turning natural leather that would otherwise be fragile and soon drying out into a material that is resistant, long lasting, suitable for making bags.
What is the vegetable tanning of leather?
Vegetable tanning consists in using the natural tannins extracted from the juice of plants to color leather. Italian vegetable tanning of leather, because of the soil and water characteristics and specificity, brings out unique shades that cannot be seen in leather produced elsewhere.

What's to love in vegetable tanned leather
■It gracefully and subtly changes its colors and shades over time ■Colors are rich and deep, with earthy tones ■When properly cared for, it is an extremely durable material that can potentially last several lifetimes■It is safer for the environment and does not contain toxic substances
Why is vegetable tanning leather more expensive than other types of leahter
The making of vegetable tanning leather requires the repetition of several processing steps, as the tanning concentration is raised by a little amount on each, up to 30 times or more. Therefore, given the considerable amount of time, effort and skills involved, leather processed this way will be two to five times more expensive to produce than regular chrome tanned leather.
Reasons to choose vegetable tanning leather
Most of the cheap leather produced worldwide is made using the chrome tanning method with chemicals. Because its cost is lower than tanning with natural tannins as less labor and skills are required, more than 90% of the leather on the market is chrome tanned leather. However, the fibres of chrome tanned leather are not able to show through the same way they do on vegetable tanning leather, and the chemicals such as chromium that are used during production are harmful for the environment.
Vegetable tanning leather of Tuscany
It is believed that vegetable tanning was a technique known in Tuscany since 1200 BC. As of now, there are still thousands of companies using this method, whose skilled craftsmen proudly convey tradition and technology manufacturing Italian leather of the finest quality.
 ※unevenness and blemishes/spots are signs of genuine vegetable tannin leather

The vegetable tanning leather products we stock are hand-dyed. The delicate color difference and color unevenness are proof of traditional dyeing using natural materials and this rough charm is actually the mark of Italian craftsmanship. While there are cases where stains of dyes and the like are adhered to inner pockets made using unaltered natural leather without lining, this is unavoidable with the manufacturing method used–it is an inherent characteristic of Italian traditional vegetable tanning leather. As the products are handmade from natural materials, they are not completely consistent, but this is also part of the product's appeal.